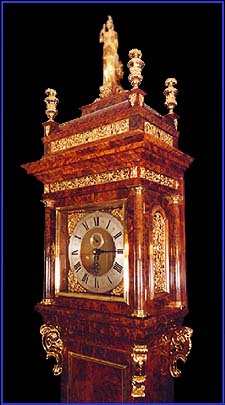 THE CASE
The case, standing 10 feet tall including the statue, is constructed of solid walnut and entirely covered with walnut burl and walnut crotch veneers and solids.
Sources from around the world contributed to the reproduction of Tompion's masterpiece.
Statue of Athena
- Thessaloniki, Greece
Hand Engraved Dial
- Nottingham, U.K.
Walnut Burl Veneer
- Ontario, Canada
Clock Movement
- Germany
THE ORIGINAL Commissioned by William III King of England in 1699, the ROYAL CLOCK built by Thomas Tompion, the father of English clock making, is considered by many to be the finest tallcase clock in the world. Remaining in the Royal Family until the reign of Queen Victoria, the original now resides in the Dewitt-Wallace Museum at Colonial Williamsburg in Virginia.
THE CASTINGS
Ninety seven separate castings and twelve milled moldings were carefully hand crafted with the help of computer enhanced and scaled photography, as well as measurements taken by the curators of the Colonial Williamsburg Museum.
Each piece is cast of a silver bearing alloy, and plated with pure 24 karat gold.